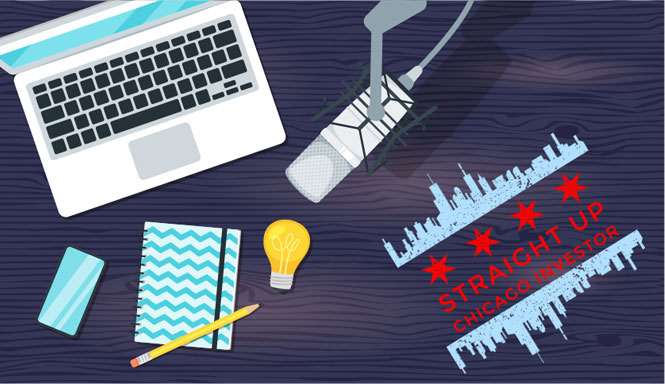 Earlier this month I was fortunate enough to attend Biznow's "Chicago State of the Market." The half-day event featured panels of city officials, architectects, capital market executives, construction leaders, mega developers, and even past Straight Up Chicago Investor guest Lee Kiser. Each guest broke down Chicago's current state of the market in their perspective field, and what the future holds for our beloved, yet troubled city.
The first panel included Maurice Cox, Commissioner for the Department of Planning for the City. The conference was only two days after the big Bears/Arlington Heights announcement so the first comment from the moderator was "two words for you, Soldier Field." Cox gave the expected vanilla answer that it was an ongoing situation and that Chicago residents will be pleased with the city's efforts to retain the Bears, but it was a nice job by the moderator to address the elephant in the room and put him on the spot.
The panel acknowledged Chicago has historically been a tale of two cities and this narrative rang relatively true throughout COVID as Class A rentals out-performed their lower class counterparts. Class A rentals are currently renting at roughly $3.4/sq ft (800sq ft apartment goes for $2,720) which is above their 2019 peaks. This is somewhat surprising as these renters are typically financially capable of buying a home in the suburbs with more space - a common hypothesis thrown around throughout 2020. This positive trend in Class A rentals is not unique to Chicago as almost every major US city saw Class A rents cross their 2019 peak $/sq ft pricing ratio.
Lee Kiser from Kiser Group claimed that occupancy and rent-levels on all multifamily assets are above or approaching pre-COVID levels. Lee beat that drum that demand in Chicago will remain high in all parts of the city as Chicago cap rates are still much higher than our coastal counterparts. His enthusiasm is backed by the fact that Kiser Group has investors in over 80 countries looking to place capital in Chicago.
Samire Mayekar, Deputy Mayor of Economic Development for the City, candidly broke down the strengths and challenges in Chicago's economic development. Mayekar hit on the INVEST South/West initiative where the city is subsidizing 30%-50% of costs to make deal pencils in ten Chicago neighborhoods desperately in need of development. There is currently $200-$300 Million worth of development in this pipeline but this initiative is just the beginning. Mayeakar stated "we need to mobilize billions of dollars to the South Side to make up for fifty years of disinvestment."
Mayekar hit on several positives, noting the Starbucks Roastery and stating that the Blue Bottle Coffee on the Magnificent Mile is the most successful Blue Bottle Coffee per square foot in the world. The Deputy Mayor informed the audience that fifty new companies moved to Chicago over the past year, seventy other companies expanded their existing footprint, with twenty of those seventy residing in the South or West side. Mayekar happily acknowledged the progress of the $4B Michael Reeser Development in Bronzeville and reported that the development recently landed two anchor tenants.
As expected, tourism in the city has taken it on the chin and Chicago currently has a $2B deficit in tourism revenue. Downtown hotel occupancy is a measly 55% but is starting to see signs of recovery with regional travelers starting to visit the city. However, international travel has not bounced back (yet) which historically makes up a decent chunk of Chicago's tourism revenue. The biggest loss to the industry has been the lack of conventions. Unlike New York or Los Angeles, Chicago's tourism industry is heavily tied to business travel and conventions.
A few positive signs for tourism is McCormick Place is currently sold out for 2022 due to pent-up demand from the inability to hold conferences during 2020 and parts of 2021. Additionally, Lollapalooza had over 300,000 attendees which actually exceeded 2019 attendees. This not only validated that more individuals are becoming comfortable with attending large events, but many of the out of town attendees stayed an entire week instead of the traditional weekend. This gave the hotel industry a much needed boost and reinforced Chicago as a desired travel destination.
Several panelists hit on Downtown office space, with the majority of input coming from John O'Donnell. O'Donnell is the CEO of Riverside Investment and Development, the company responsible for the 50+ story BMO Tower near Union Station and the Bank of America tower at Wacker and Randolph. O'Donnell confirmed that many prospective office tenants have a wait and see approach. On paper many buildings may be fully leased, but they are probably only 25% occupied.
The Central Business District had a 17% vacancy last quarter which is the highest vacancy in recent memory. O'Donnell claims there is still high demand for the newly built Class A buildings in the area and it is the older downtown buildings that will take the brunt of the vacancy while office tenants are hesitant to lease. O'Donnell also believes the key to leasing-up downtown is employees' confidence in utilizing public transportation. Right now Metra is operating at only 25% of their 2019 travel numbers. O'Donnell quoted a McKinsey study (McKinsey Remote Work Study) that only 12% of employees want to work remotely full-time. He acknowledged there are demands for flexibility to work from home, but many employees are looking for a hybrid option and remains confident that downtown can deliver on this future of working.
Supply chain issues were covered mainly by Chad Huber from W.E. O'Neil and Scott Pepper from Pepper Construction. Huber mentioned that the US will need roughly a half million trucks in the near future to get materials from our ports to their end destinations and the supply of drivers needed to accommodate this demand does not exist. Pepper hit on the shortage of labor and warned this shortage will be exacerbated by the older population retiring and not enough new tradesmen and craftsmen to backfill an already thin supply of labor. This is not a new problem, but a gradual tidal wave that he feels is going untreated.
Despite some of these obstacles, Chicago still has multiple mega-developments, most notably Sterling Bay's Lincoln Yards and JDL's One Development. Thomas McElroy is the CEO of Level-1 Global Solutions and was the most bullish on the city's outlook. McElory believes these mega developments will not only encourage other mega developments, but will make Chicago competitive as a life science hub, an exploding industry that attracts well-paid affluent employees. McElroy had the most optimistic and memorable quote of the event, stating "Chicago is about to see an increase in density like never before."