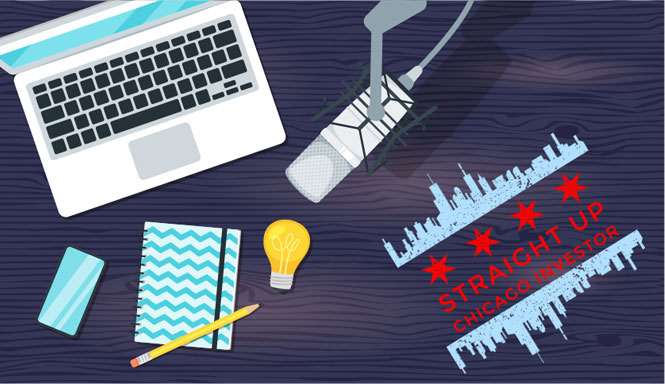 Land that the City of Chicago owns and is looking for a development team to redevelop is both left and right of the station. (The above view is looking southeast.)
The Kedzie station, above Lake Street, is in the East Garfield Park community area, next to The Hatchery, a shared commercial kitchen and food business incubator where the Garfield Park Community Council hosts farmers markets.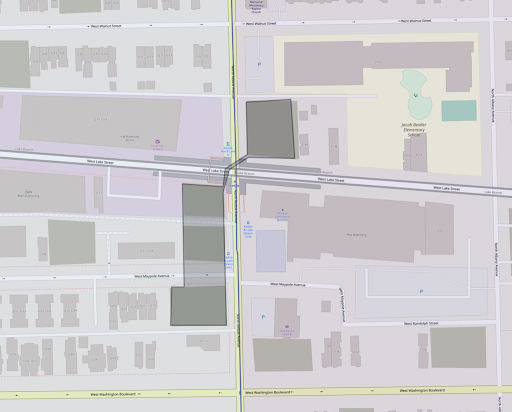 The Kedzie Green Line station is in the middle of the map, while the parcels are highlighted in dark gray. The Hatchery is in the large building southeast of the station. East of Kedzie Avenue is in the 27th Ward and west of Kedzie Avenue is in the 28th Ward.
This is not an RFP; the planning department is only soliciting interest from developers and architects who would eventually like to be invited to be part of a team that executes a development here. Specifically, the RFQ states:
"The City is seeking to prequalify a limited number of Respondent Developers and Architects based on their financial capacity, relevant experience and demonstrated ability to complete a development of similar scale and scope. Once selected, the developer-design team will create a vision for its project and a near-term plan for vertical development.
The selected Developer-Design Team will implement a vision that best meets the City's development objectives for the Site, as outlined in Section 3 of this RFQ. Responsibilities of the Developer-Design Team will include site planning, architectural design, securing entitlements, attracting anchor tenant(s), environmental remediation, and marketing properties to potential users. The selected Developer-Design Team will be expected to initiate vertical development in 2023.
The selection of a Developer and Architect for the East Garfield Park, Lake & Kedzie Site(s) will occur in two steps; a Request for Qualifications from Developers and Architects followed by a Developer-Design Team formation and public presentation period."
The city's RFQ is very clear about the zoning designation it would support: "the City is willing to support a unified B3–3 zoning designation to guide future development."
Granted, any rezoning would require the support of the local alderperson and these parcels have two. The majority of the land area, Sites 2 and 3, is in the 28th Ward, west of Kedzie Avenue, and the other portion, containing Site 1, is in the 27th Ward, east of Kedzie Avenue.
Tools for Cityscape members
Chicago Cityscape members who want to review these parcels prior to responding to the RFQ should use two maps we've set up:
Place Snapshot, in which to use Property Finder that will show just the 11 parcels included in the RFQ.
List, to quickly see the PINs of each of the 11 parcels included in the RFQ
The links in either the Place Snapshot > Property Finder or the list will lead to individual Address Snapshot reports for each of the parcels.
Contact us if you would like to try out "Super Parcel", a feature in beta that allows you to combine existing parcels into a proposed larger parcel. This way Chicago Cityscape can calculate the zoning assessment and present our other tools based on a future condition.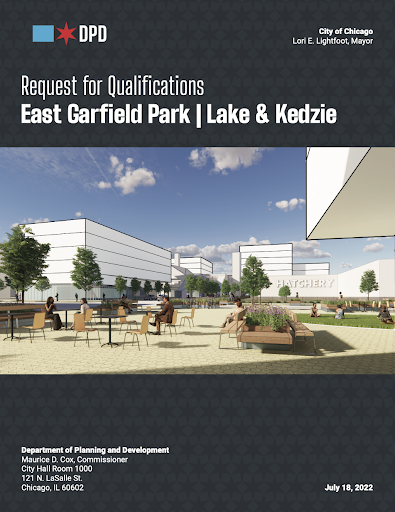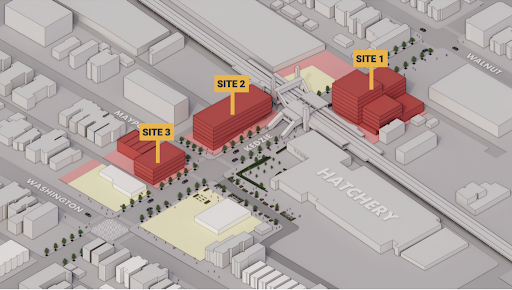 Renderings in the RFQ show building masses that could be allowed in a unified B3–3 zoning district.
Future development objectives
Carefully read the City's stated redevelopment ideas, starting on page 14:
Create a well-integrated mixed-use development that enhances the vibrancy of the Garfield Park community.

Implement Equitable Transit-Oriented development principles that enables all people regardless of income, race, ethnicity, age, gender, immigration status or ability to experience the benefits of dense, mixed-use, pedestrian-oriented development near transit hubs.

Expand retail, dining, and neighborhood amenities to promote the concept of a complete neighborhood in Garfield Park where residents can access most of their basic, day-to-day needs within a 15-minute walk of their homes.

Promote design excellence to ensure development is consistent with the unique context of neighborhood, corridors, and blocks. Design excellence is achieved through the adherence to the principles of equity and inclusion, innovation, sense of place, sustainability, and communication.
All parcels are in one of two TIF districts (Site 1 is in Kinzie Industrial Corridor and Sites 2 and 3 are in Midwest). The RFQ doesn't specify the city's willingness to subsidize the development but respondents should address their vision's potential need for use of TIF or other funds.
Submitting your qualifications
Prior to submitting your qualifications to the City, understand what the process will be, starting on page 19.
The submission package details are described starting on page 23; it requires an organizational chart, a portfolio of relevant and completed projects, financial information, references, and a vision for the redevelopment of Site 1 (the parcels northeast of the station).
http://chicagocityscape.com/benefits.php?subscribe=pro_free_trial
Start a free trial to get the best information about Chicago real estate all in one place and find more development opportunities like this one.
Looking for a Property Manager? Schedule a call today or visit our website for more information.
Get your FREE copy of: Top 10 Mistakes Investors Make When Working With Lenders
Extra Hacks & Tricks from Expert Investors? Join Our Facebook Group!
Missed something? Subscribe to our Youtube Channel!
LISTEN to our Podcast on iTunes | Spotify | Stitcher | TuneIn Radio
Need A Responsive Property Manager? We've got you covered!