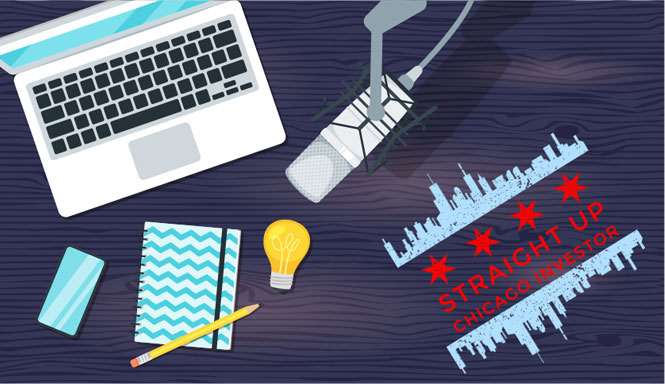 Today's Investor Story comes from Wonderful Togbey. Wonderful is originally from Togo, West Africa. He started investing in real estate a little over 2 years ago in Omaha, NE and moved to the Chicagoland area in early 2020. He currently holds a full-time job as a senior web developer. Wonderful and his fiancee have a 1 year old baby girl who keeps them going. This is a great example of taking ownership and being the designer of your surroundings, not just the consumer.
Pre-Close (where most of the craziness takes place on this deal)
Wonderful recently transplanted to Chicago from Omaha where he owned and operated 4 rental units. Being new to Chicago, he drove through multiple neighborhoods and decided to focus his investing efforts in Bronzeville. Working with a local realtor, he got a better feel for the area including typical price per door and market rents, and was prepared to make offers. Wonderful was determined to buy a property with minimal repairs as he was new to Chicago and had yet to network with local contractors.
In March 2020, Wonderful found a fully-occupied 3-unit (2 unit with a coach house) in Bronzeville listed for $400k. Wonderful ran his numbers and based on the current rents and expenses, the most he could offer was $320k. Wonderful's agent responded with the following text: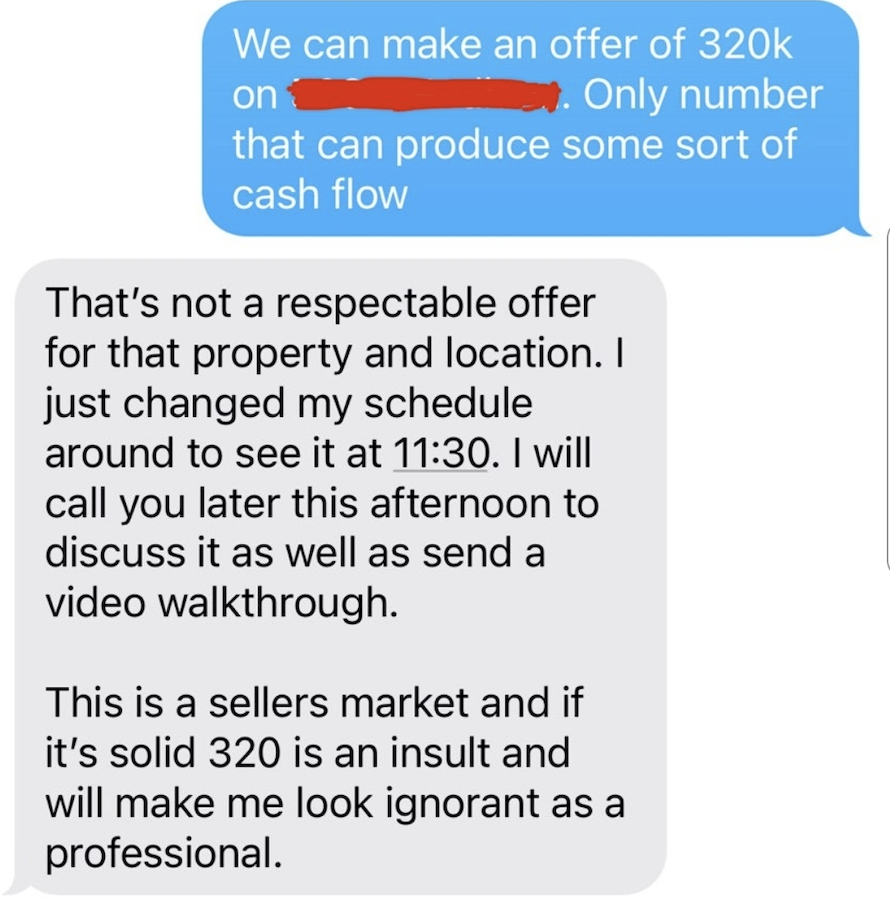 Instead of blowing-up, Wonderful excused himself from his work meeting, got on the phone with the Realtor and walked him through his strategy, his spreadsheet numbers, and why this offer might work. Wonderful had done his homework and saw that the seller had just dropped from $450k to $400k and also lived in Wisconsin. It was also right when COVID was causing uncertainty in the market, so Wonderful viewed it as opportunistic timing where the seller might accept a lower offer.
The agent submitted the offer and surprisingly enough, three days later the seller accepted with no counter. Wonderful reached out to the lender he used in Omaha, but due to COVID the lender updated their down payment requirements from 15% to 25%. Wonderful did not feel comfortable putting that much down, as it would leave him with minimal funds for operations and reserves. His only alternative was to pivot to owner-occupy with FHA financing. The wrinkle was the seller originally said no FHA financing allowed so Wonderful thought outside of the box. He bumped his earnest money deposit and updated the contract to state that he would pay out of pocket for any issues that needed to be completed to pass for FHA appraisal/inspection. This put the seller at ease, and even if several issues came-up, Wonderful would still be out of pocket less than the 25% down option. It wasn't ideal for either party, but it was a path forward.
Wonderful had recently started working on a 6-month contract-to-hire job and did not foresee this causing an issue since the new role was in the same field as his previous job and he had a permanent position lined-up after the first 6 months. However, as lenders tightened up their guidelines due to COVID, he had to hunt down a ridiculous amount of information from his temp agency, and the company to whom he contracted. Wonderful collected dozens of emails and letters and presented them to his loan officer. Given this is a local/regional lender, the officer had to make the case to the board meeting. His loan officer fought for him, and given the data Wonderful collected, partnered with his current relationship with the bank, the loan got pre-approved.
During FHA appraisal, there were some minor issues, such as peeling paint and a busted window. The seller had a local handyman quote $4,000 for the repairs, but Wonderful went on his own and found a handyman who understood the FHA process and knew he only had to scrape the paint which merely cost $450. This was a great win, but Wonderful knew he still was on thin ice to potentially lose this deal with both the seller and the lender. To get out of front of potential hold-ups, Wonderful sent a video of the repairs he made to the second FHA appraiser and asked if he needed to do any more work to ensure it met FHA requirements. This helped expedite the process and take the guesswork out of what else needed to be done.
Wonderful seemed to be in the clear, but even though he had now passed FHA, his inspection report came back showing one of the walls in the coach house was bowing. Although the deal was already close to falling apart, Wonderful assumed the worst case scenario to fix the wall and requested a $30k credit. After this request everyone involved in the negotiations - both attorney and both realtors - went dark. Wonderful's team views this as him trying to get out of the deal and no one is taking action to come to agreement. Out of desperation, Wonderful reaches out to the seller directly to see what they could work out. After several conversations they arrive at a $10k credit, moving Wonderful's net price down to $310k ($320k-$10k) and basically covering the FHA down payment.
Execution
After navigating a turbulent pre-close, one week before closing, Wonderful gets an email from the seller stating that one of the tenants is now refusing to pay. Wonderful viewed his ultimate downside as having to sit on this non-paying tenant for a while, but the overall deal was still a great long-term investment so he plowed ahead. Fortunately the tenant wasn't paying because the seller had refused to repair the hot water tank and they knew he was on his way out as the building was on the market. Wonderful immediately fixed the tank, and also installed two new central air conditioning units in the middle of July. The gestures went a long way and both tenants are still active paying tenants as of today (Feb 2021).
Wonderful also wanted to install a small fence and gave a contractor a $1,000 deposit. The contractor no-showed the job and also ghosted all of Wonderful's attempts to contact him. Instead of chalking it up to a $1,000 loss, Wonderful googled the contractor and found three different addresses. The day they had originally met, the contractor had told Wonderful where he was coming from so Wonderful knew which address was the current one. He then actually went to the contractor's apartment to say he wasn't going away that easy and that the contractor owed him a fence. Surprisingly the contractor responded and eventually did the job (note that there is obviously risk in showing up unannounced).
Final Result
Wonderful successfully house-hacked a three unit building in a desirable part of Bronzeville and is currently refinancing the property to get out of the FHA PMI. The expected appraisal should come in north of $400k, creating instant equity simply from being the one investor who was not afraid to make an offer and navigate the closing to the finish line.
Lessons Learned
Take ownership of your situation (on a related note, read the book Extreme Ownership). When something bad happens, don't become part of the problem, be part of the solution. Real estate is a team sport and your teammates will let you down from time to time. Don't use this as an excuse, but as an opportunity.

Don't be afraid to make offers. It's currently an extremely hot market and you don't want to be wasting anyone's time. However, if a seller hasn't already received an offer, you never know what they might say. At the very least you learn what requirements are to say yes and can try to structure a deal within those requirements.

Proactively look to lead situations opposed allowing the situation to lead you. In this deal, putting together the necessary emails and letters for the lender and sending the video to the appraiser were great examples of getting out in front of potential issues all while setting yourself up for success.

Maintain a long-term viewpoint. Throughout this process, Wonderful encountered many bumps in the road. However, he believed strongly in what the building could provide him today, and more importantly ten years from now. This vantage point enabled him to stay persistent and continually fight through challenges.
How to best contact Wonderful:
Phone: 402-201-0892 (text or call)
Email: wonderful.re@gmail.com