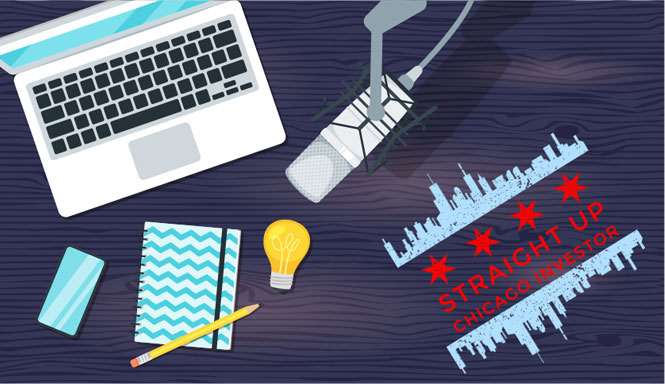 Today's Investment story comes from Nicky and RJ De Leon. Nicky and RJ were interviewed on Episode 43 of the Straight Up Chicago Investor Podcast.
RJ is a Licensed Illinois Real Estate Broker, founded EJC Partners, a general contracting company that focuses on multifamily investments, and owns and manages multifamily properties with his wife Nicky. Over the past decade, RJ has gained valuable real estate experience working for companies such as CohnReznick, Golub and Company, and Jones Lang LaSalle as a real estate accountant for class A assets. After accounting, RJ moved into sales and helped Fortune 500 companies incorporate economic and labor market data into their critical business functions working with national real estate developers using that same technology.
Nicky and RJ are hosts of the Chicago Multifamily Club and have been guests on numerous podcasts. RJ graduated Magna Cum Laude in Accounting at Northern Illinois University where he also received his Masters of Accounting Science.
Nicole is experienced in strategic and consultative sales in developing long term client relationships resulting in over 41M in annual revenue over the past decade. She's an investor and licensed Real Estate Broker specializing in opportunity sourcing, analysis, deal funding, and building partnerships. She is the co-founder, along with her husband RJ, of NVR Properties LLC, a real estate investment and property management company that focuses on rehabbing and stabilizing multifamily assets.
Nicole co-organizes the Chicago Multifamily Club with 2,000+ members and the Chicago branch of The Real Estate InvestHER Meet-up. She has a B.A in Psychology from Saint Mary's University in Minnesota.
Pre-close
RJ and Nicky found the subject 3-unit Bronzeville property in early 2019 through a wholesaler. Since it was over 100 years old, the plan was to gut the property and consider multiple exit strategies on the back-end. The building was unique in that it had 14ft ceilings on the first floor and 10ft ceilings duplexed up on the second floor. It also had a basement nearly 8ft tall.
Interestingly, the building was originally marketed as a two-unit, but they pulled the zoning certifications for the property and found out it was a three-unit. The reason for this mis-zoning was because the basement was unfinished - something that's easily mistaken for a non-livable unit.
Going into the property the first time, RJ and Nicky knew that they had to do a full gut rehab down to the studs, replacing the back porch, redoing the stairwell, as it was not built to-code and more. However, the deal still made sense, and the closing went smoothly.
Execution
To help the current owner with moving, Nicky and RJ paid moving fees to the seller who owned the property. Given the large amount of trash, it made sense to offer that incentive at closing to help expedite the process. They ultimately closed at approximately $212,000 all-in, while expecting a rehab number well into the six figures.
The plan to execute the rehab was that RJ would work with another contractor to manage the construction. Since this was RJ and Nicky's first big rehab, they weren't 100% sure what to expect in terms of surprises; the first one came early while they were completing the demolition.
They had to replace 5 layers of flooring, which of course requires much more time and dumpster space than expected. They also had to replace more than 60 joists - the back-half of the 2nd floor actually had no beams at one point during the rehab. Replacing joists was of course expected, but not to that degree.
After resolving some of the demo issues and after completing the framing, the problems compounded. The entire facade on the front of the third floor suddenly collapsed from the front of the house. As the Michigan sandstone descended, it exposed the whole top half of the duplex. This was unfortunately part of the year in Chicago where weather was extremely variable on a day-to-day basis - rain followed by cold, windy weather was not unlikely. They had to put a tarp on the whole front half of the house to keep the rain from damaging the newly built frame. They also needed to use fans to keep the water from warping the floors.
To add insult to injury, Michigan sandstone is no longer produced, so they had to replace it with manufactured stone. Unfortunately, manufacturers of the replacement stone were months behind, and it was extremely difficult to find something that would look similar enough to the Michigan sandstone for it to not stand out. This all took about two months to resolve.
This was all during a time that covid was wreaking havoc on the construction industry. Workers, family members, and general communities were getting sick. Materials were more expensive, and sub-contractors were highly in demand. This all contributed to slowing down the project.
Fortunately, RJ and Nicky were able to mitigate the costs in a few ways. First, they had all the wood delivered before material costs increased. They also called around to many different vendors when pricing didn't make sense. For example, after much searching, they found a porch company to install the porch for them at a great price and with great quality. Fortunately, the company actually stockpiled their own wood, insulating them from the increasing market prices for wood.
Final Result
Ultimately, RJ and Nicky weathered (literally) many of the issues that came their way. 14 months later, they are now nearly complete with the project. Thankfully, they will still be able to make money on the deal. With the current real estate market conditions, the property may appraise/sell for more than $750,000. Of course, this may change as the market changes.
In addition to this project, RJ and Nicky are busy with several other investments - both larger multifamilies and out of state investments.
Lessons Learned
Pull the zoning certifications for properties that you're looking to purchase. You may find that the advertised number of units is incorrect.

Expect to have many unexpected items come up with old, 100+ year-old houses in Chicago. As frequently mentioned in previous investor stories, have a sufficient contingency budget.

Plan out your project, but expect it to not work out the way you plan - even in a perfect world. Things outside your control will go wrong.

When you have architectural plans from an architect, read them in full up-front to ensure that you are on the same page with the architect. You will eventually have to deal with how things are drawn out, so you might as well make the adjustments at the beginning, before striking ground.
Shout Outs
How to best contact Nicky and RJ
Looking for a Property Manager? Schedule a call today or visit our website for more information.
Get your FREE copy of: Top 10 Mistakes Investors Make When Working With Lenders
Extra Hacks & Tricks from Expert Investors? Join Our Facebook Group!
Missed something? Subscribe to our Youtube Channel!
LISTEN to our Podcast on iTunes | Spotify | Stitcher | TuneIn Radio
Need A Responsive Property Manager? We've got you covered!